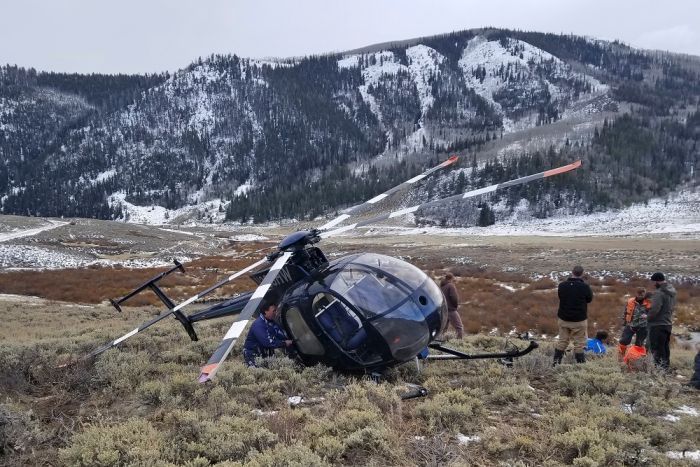 A leaping elk has brought down a low flying helicopter in Utah. The helicopter was flying at a height of about 3 metres (9.4 feet). The helicopter crew had tried to throw a net over the elk and sedate it in order to place a tracking collar on it. After the attempt failed the pilot started slowing down the helicopter so someone could jump out to hobble the elk. As the helicopter slowed down the elk lept and collided with the tail rotor. The 2 people on board were not seriously hurt while the elk died from it's injuries instantly. The crew returned to flying the following day.
Normally a net is shot at the animal which tangles it and causes it to fall before the helicopter and a crew member binds its legs so that biologists can come and do health checks and put on a radio collar before releasing it. In this case the elk stayed on it's feet after the netting.
The helicopter crew are Texas based with the incident occuring about 145km (90 miles) east of Salt Lake City, near Currant Creek Reservoir. Original reports say that the Texas-based flight crew are Australians.
Pedestrian TV notes: "According to KUTV, statement from Wasatch County Search & Rescue included the somewhat intriguing detail that the crew was Australian:
The Australian flight crew was in the process of netting a cow elk, which jumped and hit the tail rotor of the helicopter. This almost severed the tail rotor and ended the flight of this chopper."
Elk takes down helicopter in Wasatch County https://t.co/QmZJHfzjbC

— Dan Rascon (@DanKUTV) February 13, 2018
Officials will review the incident to make sure protocol was followed and if any changes need to be made to the program.
Utah captures about 1300 animals, mostly with helicopters, every year to place tracking collars on them to monitor migration paths and survival rates.
Officials have said this was the first incident of it's type.