A plane from the Transavia airline suffered an incident when it landed.
The Boeing 737 (reg. F-GZHA) suffered an incident when it landed at Nantes, France at 13:05.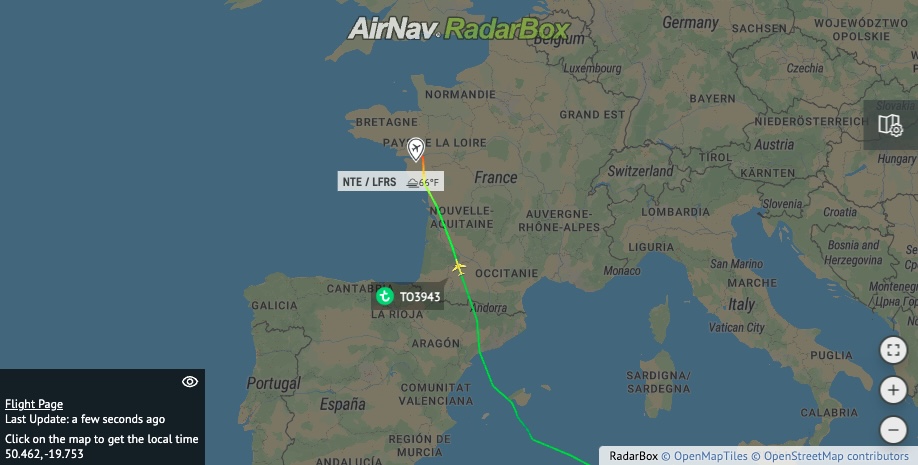 The flight #TO3943 from Djebra was landing in Nantes when the two front wheels detached from the landing gear bogies.
The aircraft was immobilized on an access ramp where passengers from Djerba deplanned.
The incident caused debris forcing the airport to close the runway.
The civil aviation safety investigation and analysis office has opened an investigation to understand the circumstances of this incident.
⚠️ Accident du @BoeingAirplanes #737 immatriculé F-GZHA exploité par @transaviaFR survenu ce jour à 13h sur l'aéroport de #Nantes lors de l'atterrissage / 3 enquêteurs @BEA_Aero et un enquêteur de première information sur place / Ouverture d'une enquête de sécurité. pic.twitter.com/OrlDF1tmb6

— BEA ✈️ ⚙️🔬🇫🇷 (@BEA_Aero) October 1, 2022
The fuselage was also damaged by the wheels.
Passengers bound for Bastia, using this plane, were due to leave at 13:45 but they saw their trip postponed until tomorrow Sunday.
The runway was closed for two hours. Flight operations are resuming slowly since 16.00.