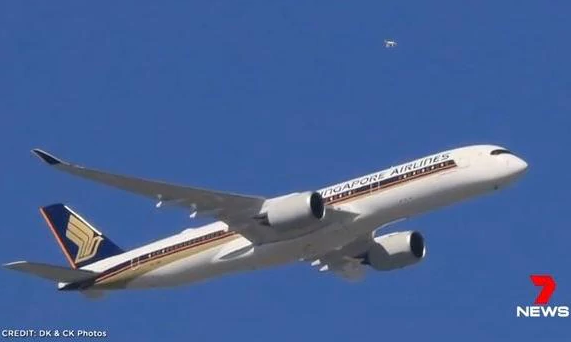 Aviation authorities are investigating claims a drone came dangerously close to a Singapore Airlines plane as it flew above the Swan River on Wednesday 5 April.
The airline had been holding a competition for the best photo of the special Perth flyover, but there are concerns some people went too far.
Photographer Daniel Kitlar went out to try and get a great snap during the airlines' 50th anniversary celebration, but noticed the drone when he returned home to examine his images.
"It just shocked me, how can they fly so close to a massive piece of machinery with people's lives on it?" Mr Kitlar said.
The Singapore A350 flew just 500 metres above the Swan River. It remains unclear whether the Singapore Airlines pilot would have seen the drone, but no official complaint has been made to safety authorities.
@SingaporeAir flight #SQ226 flying low over the city to celebrate 50-years of flying to Perth. See the pictures in Seven News at 4:30 & 6pm pic.twitter.com/jnYV0YKSZ0

— 7 News Perth (@7NewsPerth) April 5, 2017
According to aviation law, drones must not be flown higher than 120 metres or 400 feet in controlled airspace.
Drone operators who are caught breaching the law can face fines of up to $9000.