China's aviation authority said Monday that a China Eastern Airlines Boeing 737 passenger plane had crashed with 132 people on board, including 123 passengers and nine crew members.
Contact was lost with the flight over Wuzhou, in the Guangxi region, the authority said. It was scheduled to fly from Kunming to Guangzhou in the southeast of the country.
Please reload for updates…
UPDATE Aviation authorities say no survivors found after China plane crash with 132 people onboard. The cause of the crash cannot be confirmed so far.


UPDATE China Eastern grounds all Boeing 737-800 aircraft after one of its planes carrying 132 people crashed in the southwestern Chinese province of Guangxi.
UPDATE The huge crater confirms the nose dive of the China Eastern Boeing 737.


UPDATE The plane dropped from an altitude of 29,100 feet to 3,225 feet in the span of three minutes.
UPDATE According to CCTV footage, the China Eastern Boeing 737 was nose diving into the mountains.


UPDATE The China Eastern Airlines plane involved in the crash was a 6 year old Boeing 737-800 (reg. B-1791).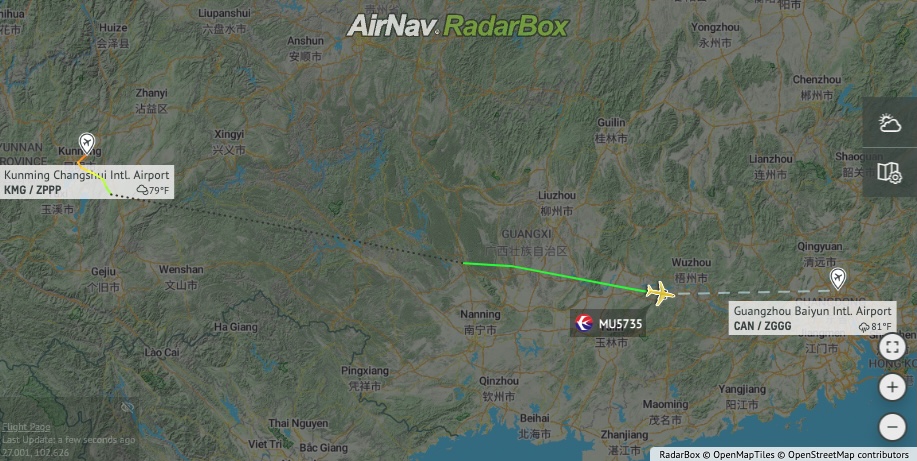 The flight MU5735 left Kunming at 1:11 p.m. local time (1:11 a.m. ET) and was due to arrive at its destination in under two hours.
Video footage taken by local villagers shows the aftermath of a plane crash in south China on Monday. The Boeing 737 crashed with 132 people on board.

CGTN has the latest updates: https://t.co/KenJaQ0l9O pic.twitter.com/JMHh7viEeA

— CGTN (@CGTNOfficial) March 21, 2022
China's Civil Aviation Administration said it had "activated the emergency mechanism and dispatched a working group to the scene," according to a translation. Chinese state media said the crash had caused a mountain fire.
The crash site was located at Molang Village, Langnan Town in Tengxian County, Wuzhou City in south China's Guangxi Zhuang Autonomous Region, according to the local emergency department.
China Eastern Airlines confirmed the crash and the number of people on board via a statement on Weibo, China's version of Twitter. The airline said it is sending workers to the site of the crash and has opened a hotline for family members.