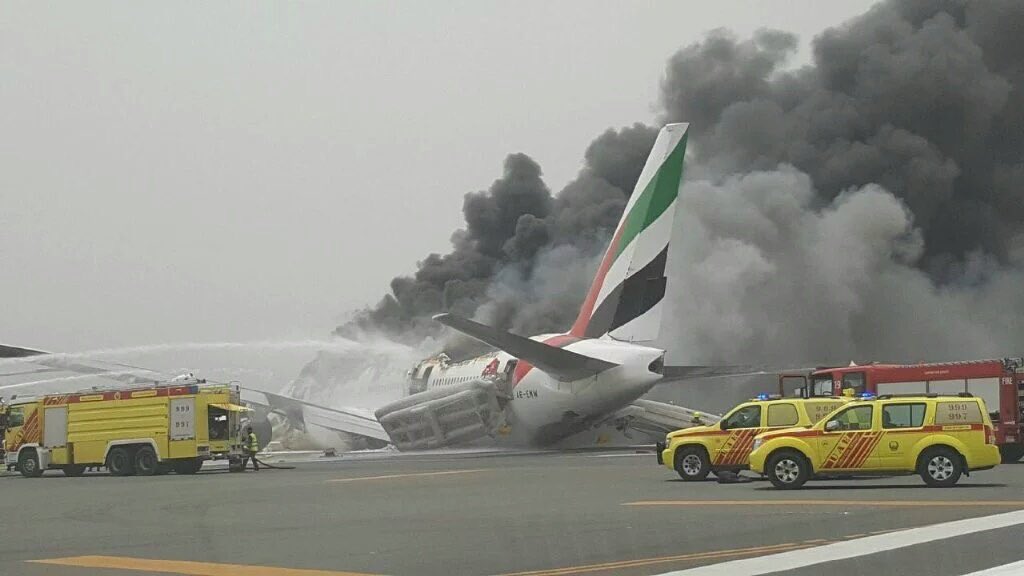 An Emirates Boeing 777 has crash-landed at Dubai International Airport, before bursting into flames on the runway.
Emirates airline has confirmed that a jet carrying 282 passengers and 18 crew has been "involved in an accident". The flight involved was EK521 coming from Kerala, India.
The Boeing 777 attempted to go around from low height but did not climb and touched down the runway after retracting the gear.
Footage from the airport posted online showed flames bursting out of the front of the Boeing 777-300.
الجهات المختصة في مطار #دبي تتعامل الآن مع الحادث الذي تعرضت له طائرة طيران الامارات عند هبوطها وضمان سلامة الجميع pic.twitter.com/1WJ30JoaRP

— عشق الكتابة (@rsddar) August 3, 2016
In a statement on twitter the airline confirmed that there was no fatalities
We can confirm that there are no fatalities among our passengers and crew. All passengers and crew are accounted for and safe. #EK521

— Emirates airline (@emirates) August 3, 2016
All departures at the airport have been delayed.
Emirates statement:
Emirates can confirm that today, 3rd August 2016, flight EK521 travelling from Trivandrum International Airport in Thiruvananthapuram, India to Dubai has been involved in an operational incident upon landing at Dubai International Airport. There were 282 passengers and 18 crew on board.
The nationalities of passengers and crew on board are:
226 – India
24 – UK
11 – UAE
6 – US
6 – Saudi Arabia
5 – Turkey
4 – Ireland
2 – Australia
2 – Brazil
2 – Germany
2 – Malaysia
2 – Thailand
1 – Croatia
1 – Egypt
1 – Bosnia & Herzegovina
1 – Lebanon
1 – Philippines
1 – South Africa
1 – Switzerland
1 – Tunisia
The Boeing 777-300 aircraft, departed at 10.19am from Trivandrum International Airport and was scheduled to land at 12.50pm at Dubai International Airport.