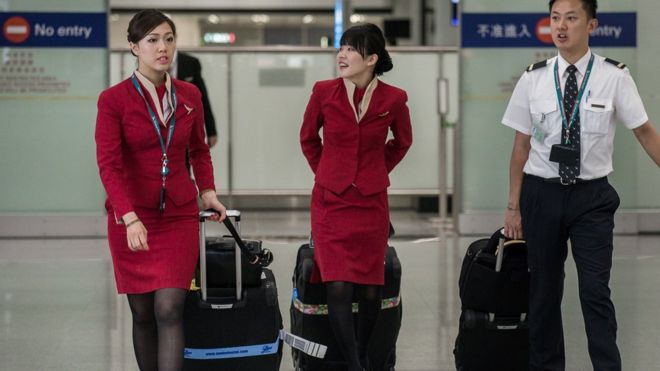 Cathay Pacific has come to an agreement with unions to allow female employees to wear trousers. The agreement covers all uniformed staff.
Cathay Pacific completes two-leg journey, letting women wear trousers https://t.co/PLhCbNTPpg

— Guardian Australia (@GuardianAus) March 30, 2018
In a Statement the airline told media, "We are pleased that we have reached an understanding on matters raised. There is no progress without change. Now is the time to make this happen by working together to review the uniforms that accurately reflect the values we represent. Choice for our people is as important as for our passengers. It is imperative that our customer-facing colleagues not only feel pride in wearing the Cathay Pacific and Cathay Dragon colours but that they also feel comfortable and empowered to carry out their duties to the best of their abilities."
Pauline Mak, Vice-Chair of the Hong Kong Dragon Airlines Flight Attendants Association also told media, "We welcome and appreciate the company's decision on giving us an option in choosing uniforms. It not only provides us one more option, but also provides us with protection."
The change will only become available after the next uniform refresh – due in three years.
The move comes after pressure from both the Cathay Pacific Flight Attendants Union and Hong Kong Dragon Airlines Flight Attendants Association. Staff had been requesting changes since a Cathay Pacific uniform redesign in 2014, with many saying the skirts were too revealing.
The decision means the Hong Kong based airline becomes one of few carriers based in Asia that allows female staff to wear anything but skirts.