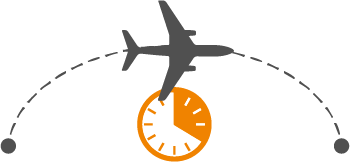 Your flight to/from Europe was delayed or cancelled?
We could help you to receive




up to 600 euros

in compensation!
File my claim
free of charge

You experience overbooking, a cancelled flight, a significant delay and you want to be compensated by the air carrier? Trust us to defend your interests. Our advisers will take care of the entire claim procedure for you. They will examine your application and make sure you receive feedback very quickly.
Upload my supporting
documents

Does your form meet our acceptance criteria? Perfect! Your personal adviser will ask you to upload the various items and supporting documentation you need to complete your case file. He will do everything to optimise your chances of being compensated by the air carrier.
Our adviser will inform you regularly of progress in your case and promises to answer all your questions. In your personal space, you can monitor the progress in your case in real time.
Receive up to 600 euros (approx. 430 pounds) in compensation

We deduct a commission from the compensation received. If your claim is successful, 75% of the compensation received will be paid to you (for example, if your compensation is 250 euros -approx. 180 pounds-, you will receive 187.50 euros. The 62.50 euros we deduct covers our costs). In case of failure, we do not bill you for costs, regardless of the time spent or the reasons why we have to close your case. The remuneration scheme is linked to our success.
A quality customer relationship
Personalised support by assigning you a dedicated advisor for as long as your claim procedure lasts, to answer all your questions within 24 hours in 95% of cases.

Real-time follow-up throughout your case in your Air-Indemnité personal space which is automatically created when you file your complaint.
An efficient and effective service
A success rate higher than 90% (subject to eligibility of the case).

We will do everything in our power with the airline to make sure that your claim is quickly and amicably resolved.

We guarantee you a total annual rate of satisfaction that is greater than 95%* (*Study by Ekomi, an independent company).
We know-how
Our business is a regulated profession and we perform it in accordance with the legal provisions in force.
Our fees will be transparent and payments will be secure.
Our fees will be transparent: we charge a commission of 30% of the claim settlement which we obtain for you, whatever the difficulties we encounter in treating your file. We do not charge expenses if we do not resolve the claim.

Your compensation will be paid to you no later than 7 days after we receive the funds from the airline AND your will also have a secure transfer from our dedicated bank account.