Gear Every Aviator Needs To Have For a Safe Flying Experience
Flying can be fun and exciting, but it also entails a lot of risks. A pilot can't foresee every possible danger—even a very professional must be cautious before they take off. A pilot should conduct a thorough checking before the flight and have a pre-flight inspection of the aircraft that should be followed and never be forgotten and skipped.
Each pilot has his system on what gear they take with them when flying, but there are a few that we think any private pilot should always bring with them when they fly. Here are some of the standard gears that the pilot carries when they operate an aircraft.
Headset
A dependable headset is one of the things that a pilot should have. Having one on their own certainly isn't a requirement. However, several people that fly regularly opt to purchase their own. It is the essential gear for them since it is always on your head for the flight duration. It should be light, comfortable, and noise reducing. Hence, pilots should pick the best aviation headset for them to have an efficient and convenient flight. Choose the brand with the best features and comfort.
Non-polarized/Aviator Sunglasses
Non-polarized lenses view all sunlight fairly and reduce overall intensity. However, it doesn't fix shine and sparkle if you're around water, snow, or glass. It decreases light reflection, so it is best suitable for aviators. Sunglasses help safeguard a pilot's vision. It minimizes the aftermath of sunlight, lessens eye fatigue. It also protects the eyes from harmful solar radiation. Aviators should choose sunglasses that incorporate 100% ultraviolet protection. Pilots advised using non-polarized while flying because polarized lenses can sometimes make it strenuous and hard to read the controls and GPS in the cockpit. 
Extra Tools and Survival Gear
A survival kit is a package of essential tools and supplies. It is prepared as an aid in an emergency. These are the most needed items in an aviator survival kit; clothing, fire starter, a knife, whistle, compass, a cord, a signal mirror, medicine, food, and water. Hand tools are significant for some pilots as well. Most pilots carry a limited set of simple equipment, such as a screwdriver, a multi-tool, and a pocket knife. These may be useful for a range of activities, such as inspecting the aircraft and making small repairs and improvements.
Handheld Two-way Radio
Radio is one of the essentials in flying an aircraft. There are various types of communications tools that the pilots have been using inside a cockpit. However, a spare handheld radio should always be in a pilot's bag. Important messages and commands have transmitted in both ways by utilizing this equipment. You could also use your backup radio to toggle on aircraft-controlled lighting systems at non-towered and perhaps even small towered airports. Furthermore, this can help the pilots in worst scenario cases like a radio failure in flight. Aside from that, it can be used in cases of emergencies, if the pilot has an "unplanned landing. They're pretty cheap, but they're an absolute must.
Extra Battery, Cables, and Chargers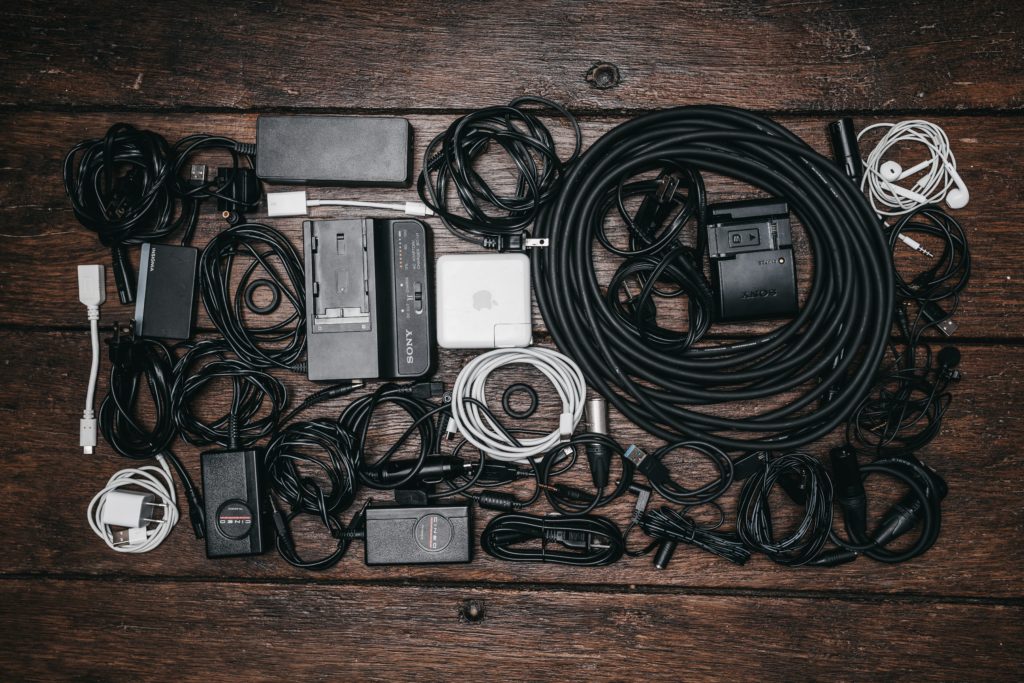 With all the electronic devices and equipment in an aviator's cockpit, extra cables, batteries, and chargers are must-have. For example, if you are using an iPad device that carries various charts when flying, a charging cord and spare battery should always be in your flight bag as it will help you when you need to charge in the middle of the flight. It is important to take note that a pilot always requires having a backup for everything.
Notepad and Kneeboard
A pilot needs a notepad or electronic devices for writing down clearances and flight records. However, it's a great idea to have those writing equipment secured for takeoffs and landings to prevent it from becoming a projectile in an emergency. The kneeboard offers protection for the unit, along with cell phone pockets, pen/pencil holders, including an aluminum clipboard that can be conveniently used in place of the iPad Mini to carry charts or notepads.
As stated above, flying an aircraft can be risky and dangerous not only for the pilot but for the whole passengers that it transports. For that reason, Pilots are being motivated to be prepared for any situation. They're motivated to provide contingency plans and checklists. Pilots carry a wide variety of things with them as they travel. Although there are many things common to most pilots, many of them are mission-specific. Their preparedness is expressed in the contents of their flight luggage.