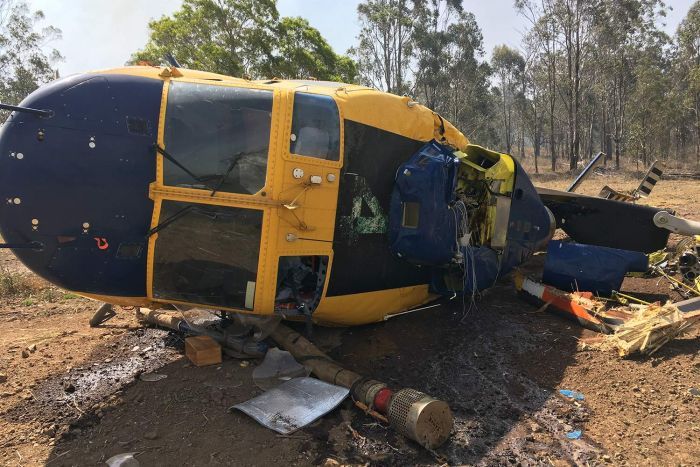 A water bombing helicopter has crashed while assisting bushfire firefighting efforts in the Australian state of Queensland.
Just before 2:00pm AEST the helicopter reportedly lost power. The experienced pilot, who is in his 70s, was attempting to make an emergency landing, managed to make a heavy landing before the helicopter flipped on it's side. The pilot was taken to hospital with minor injuries. The aircraft also suffered a fuel leak after the landing. Other water bombing helicopters were grounded briefly while investigations into the crash began.
Queensland Police Service Acting Inspector Regan Draheim told 9 News, "He is a very experienced pilot. He's obviously done what he's seen best to try and recover the aircraft and to obviously save his own life." He also told 9 News "the pilots of water-bombing aircrafts put themselves in 'treacherous situations' for everyone else's benefit. The Mayor of the Scenic Rim Regional Council, Greg Christensen, told ABC News Australia, "The guys who go up in the air over these fires, the turbulence that comes off fires, particularly in these corridors, must make it really challenging and they do a great job."
There are currently 80 active fires in Queensland, some at the highest warning level. Firefighters from other states and New Zealand are helping with the firefighting effort. Emergency evacuations have been ordered for some of the fires. The neighbouring state of New South Wales also has 76 fires and is also getting assistance with firefighters from other states. Both governments have declared a state of emergency. The bushfire season for many parts of Australia runs from October/November to March.