The United Arab Emirates is creating its own rain using drones that fly into clouds and unleash electrical charges to beat the sweltering 122 degrees Fahrenheit (50 degrees Celsius) heat.
The rain is formed using drone technology that gives clouds an electric shock to 'cajole them' into clumping together and producing precipitation.
The UAE is one of the most arid countries on Earth, and it hopes the technique could help to increase its meagre annual rainfall.
Waterfalls were seen on the side of roads as drivers in SUVs struggle to navigate the torrential rain – despite the country being in the middle of a summer heatwave where temperatures have soared above 122F (50C).
الامارات : الان نزول الشلالات من قمة جبل حفيت بمدينة العين #منخفض_بحر_العرب #مركز_العاصفة
١٧_٧_٢٠٢١ pic.twitter.com/9BmBEdS8EK

— مركز العاصفة (@Storm_centre) July 17, 2021
The Center said the precipitation has been enhanced by a technique known as cloud seeding, and its purpose is to increase condensation in the hope that it might trigger a downpour.
The UAE's cloud seeing operations are part of an ongoing $15 million (£10.8m) mission to generate rain in the country.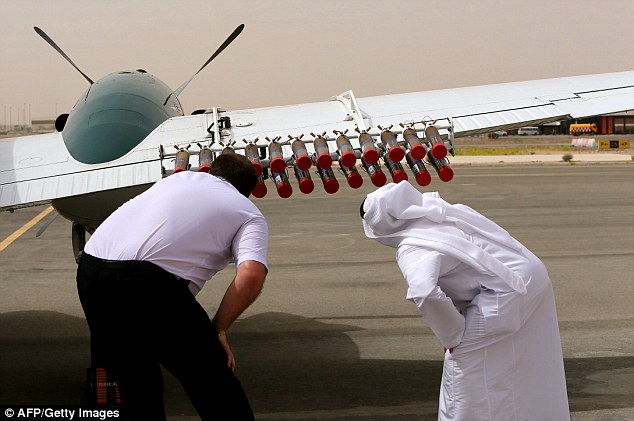 Another option can be seen in the above picture. In the blazing sunshine at Al-Ain airport, a twin-propeller Beechcraft stands ready to fly into action at a moment's notice on a cloud-seeding mission.
The plane is armed with an array of salt flares which are fired into a promising clouds to increase condensation and hopefully trigger a downpour