Many countries and cities have imposed wide lockdowns. Closing all borders for tourists and business travelers. As a result, many people are quarantined and forced to stay in their respective apartments and postponed all their travel plans. However, there was an increase in air traffic in July as most countries are opening their economies back again. Many experts believe that it is too soon for everyone to go back in flying as there is still the risk of getting the Coronavirus.
CDC and other local government health agencies have imposed strict guidelines on how to travel back safely. Some suggest blocking middle seats as a precautionary measure and maintain social distancing to avoid getting infected. United Airlines implemented by announcing that they are automatically blocking all middle seats to give passengers enough space on-board. With several weeks before the start of summer vacation, many are still in the midst of weighing their decisions between getting on a plane or keeping their feet on the ground.
Traveling will be a lot more different compared to the ones you experienced before. Gone are the days where you lined up at the check-in counter for hours just to drop your bag and get a boarding pass and spent half a minute of your time in security checks. Whether you are choosing air travel for pleasure or business, take a few extra minutes or hours of your time planning, researching to avoid any complication along the way. Here are some tips to make the most of your air travel experience.
Get Updated
There are some cases where passengers often don't get any updates from the airline if there are some delays or canceled flights. It is important for passengers to receive this kind of information to let them notify them of what's happening to their flight. However, it's not always the airline's fault. Passengers tend to put an unreliable email address or unreachable mobile number causing the information not delivered. To avoid this from happening and continue getting up to date information about your flight, input your best contact details as possible for the airline staff to reach you in times of situations. Airlines are generous in giving flight updates, reminders as well as safety measures before you get to the airport. 
Direct Flights
Even before the virus becomes a pandemic, many travel enthusiasts recommend travelers to book more direct flights when they travel. For the reason that you are more likely to experience a flight delay or your bags not reaching your final destination. The advantage of choosing a direct flight over having a stopover is cost and convenience. Once you are sure and you can see the plane being serviced and ready for boarding, you can be pretty confident that your next stop is your final destination. If ever your bag did not make it with you, it is less complicated to look for it as the only point of origin is the place where you checked in. Booking a flight that has a stopover also adds up to your travel time. Flying non-stop is also sustainable and more fuel-efficient than taking one plane to another.
Best Seat
One of the best things you can do with riding a plane is choosing your seat. There are three categories in an airplane seating arrangement, the window, middle and aisle seat. Most people who haven't been in an airplane and riding it for the first time prefer to get a window seat. This seat is for people who want to see the clouds or want to rest their head to the window surface. For business and frequent travelers, they often want to get the aisle seat. Mainly because they can stretch their legs and slouch a bit when they are tired. The last category is the middle seat. No one prefers this seat as you are in between two people sitting in the window and aisle. However, the middle seat can become your best friend if the flight is not full. You can request the airline staff to have it blocked so no one can sit next to you. It can also serve as your additional space on-board.
Bring your food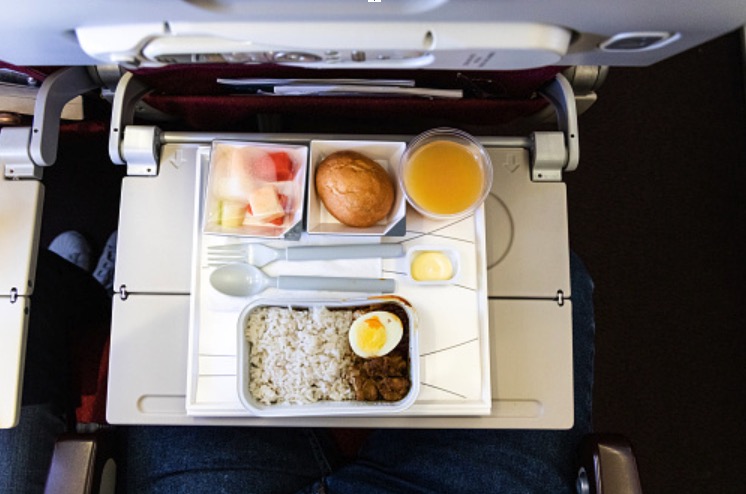 Stalls inside the airport keep on popping and have improved over the years. Although they are not the most healthy option out there, they still keep you full and charged. Perfect for passengers waiting for their next flight. However, if you are in a rush and no time to grab a quick snack. Some airports have a dedicated app that will allow you to order food available on their menu and have it delivered to you at the boarding gate. All passengers on board the plane will receive in-flight food, but the quality is not always fine dining taste. Remember that low-cost carriers that operate short-haul flights do not give free food onboard. For you to keep fueled and ready to explore your destination, you can bring your favorite snack or meal on board. Just make sure that it is allowed by the airlines as not all food allowed on board. Doing this makes you save money and time.
Get Morning flights
Airport operation is busy throughout the day. It can bring out the worst in every passenger. Most frequent travelers suggest people book morning flights as most people prefer getting the later flight. The advantage of getting a morning flight is you'll have more opportunities to catch other flights once you missed your original flight. However, if you are the type of person who wants to book last-minute and want to avoid busy airports, there are private charter services that offer the services that your flying needs. According to Stratos private jet charters, whether you are looking for short-haul or ultra-long-range capabilities, there's a private jet rental that's right for you. No matter what your style of flying is, booking a flight in the morning is the best and airports are generally less busy during the time of day.
Get Noise Cancelling Headphones
Having a pair of headphones during a flight is essential and should never be forgotten when traveling. It will help you isolate yourself from other passengers and have a more enjoyable flight. Although the airline gives free headphones for your in-flight entertainment, they do not work as noise-canceling headphones do.
Traveling during this time of year would be a lot different from before. However, it shouldn't stop you from having fun and these tips are just here to help you achieve that and make the most out of your travel experience.