A British Airways flight to Rhodes made an emergency diversion after its windshield shattered mid-flight, according to a passenger.
Caroline Edmunds tweeted that she was on BA624 from London to Rhodes, Greece, on Saturday afternoon when it was forced to land in Athens after the windscreen "broke".
Edmunds, who posted a picture of the Airbus's windshield after landing in Athens, said the experience was "terrifying" while thanking the pilots for diverting the plane safely.
A big 'thank you' to the @British_Airways pilot who got us safely diverted to Athens after our plane's windscreen broke … terrifying 😬 Now happily waiting for another not so dramatic flight to Rhodes! #britishairways #BA0624 pic.twitter.com/P5bjfKl6Bj

— Caroline Edmunds (@mrssteve) September 24, 2022
"Now happily waiting for another not so dramatic flight to Rhodes!" she added.
Data shows the flight was diverted to Athens on Saturday afternoon. It quickly descended from about 36,000 feet, suggesting the incident occurred at high altitude.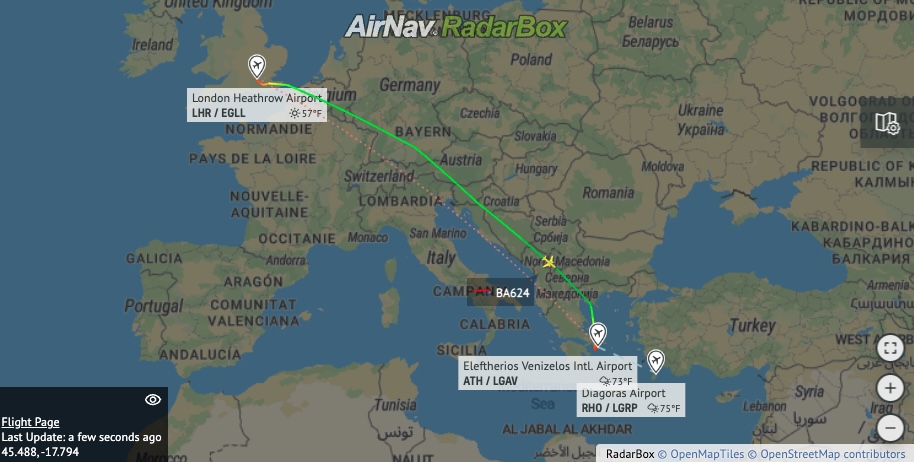 A BA spokesperson told Insider in an email: "Due to a technical issue, the flight diverted to Athens and landed safely. We apologised to the customers and a replacement aircraft was arranged to get them to their final destination."
Flight tracking data shows the flight eventually departed again from Athens to complete its trip to Rhodes early on Sunday morning.