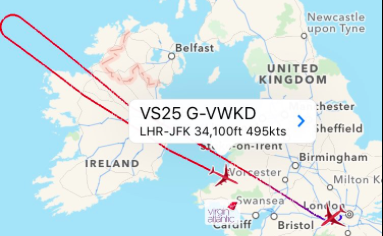 Virgin Atlantic flight VS25 returned to Heathrow last night with 252 passengers and 15 crew after an incident when the first officer was shone by a laser.
POLICE STATEMENT
Aircraft forced to return to Heathrow after being hit by a laser strike #consdieryouractions #laserstrike CAD4

— Aviation Policing (@MPSHeathrow) February 14, 2016
STATEMENT FROM VIRGIN ATLANTIC
"The safety of our crew and customers is our top priority and we apologise for any inconvenience to those onboard.
All customers will be offered overnight accommodation and we will get them on their journey as soon as possible."
UPDATE 
Passengers are to be moved onto new flight departing tomorrow at 1pm
CONFIRMED – LATEST
Sky News and BBC News tweets and confirms that flight #VS25 returned to Heathrow because of a laser being pointed at the cockpit and obscuring the pilot's vision.
Plane turned back by 'laser incident' https://t.co/sPnX4Dj51z

— BBC News (UK) (@BBCNews) February 15, 2016
Virgin Atlantic flight to New York forced to return to #Heathrow after laser pointed at cockpit and obscured pilot's vision

— Sky News Breaking (@SkyNewsBreak) February 14, 2016
UPDATE
A Virgin Atlantic flight bound for New York has safely returned to London Heathrow. Flight #VS25 turned around after there being a cockpit incident where a laser has been pointed towards the cockpit of the A340 and has caused an effect to one or both of the pilots of the Airbus plane.
EARLIER
Reports that flight VS25 is returning to Heathrow because of a laser being pointed at the pilot of the flight
Click here to Listen to the ATC of the pilot declaring this incident (via @AirportWebcams)
https://twitter.com/FlightAlerts777/status/698994637390901249