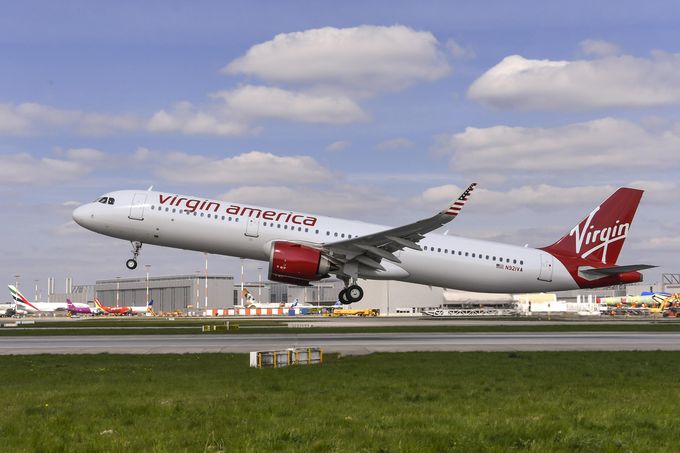 Airbus has delivered the first-ever A321neo. The latest generation aircraft powered by CFM International's LEAP-1A engines was handed over to U.S. airline Virgin America, an all-Airbus operator, at a ceremony in Hamburg, Germany. 
The A320neo significantly reduces noise levels, generating only half the noise footprint compared to previous generation aircraft. Equipped with fuel-saving Sharklet wingtip devices nitrous oxide emissions are 50 percent below regulatory requirements as outlined by the Committee on Aviation Environmental Protection (CAEP). In addition, the aircraft with LEAP-1A engines is proven to deliver at least a 15 percent fuel savings compared to Virgin America's current generation aircraft, which is equivalent to cutting 5,000 tons of carbon dioxide emissions with each plane every year.
The A321neo is the largest member of the A320neo Family. It covers the entire market, from high density to long-range thin routes. There are currently over 1,300 units on order.
"We are honored to be the first operator of this high in-demand aircraft," said Virgin America President Peter Hunt, speaking at the ceremony attended by Virgin America teammates, Executives from Airbus, CFM and the aircraft lessor GECAS. "The new A321neo – the third member of the Airbus A320 Family to join our Virgin America fleet – will allow us to further reduce our unit costs and enable us to further reduce our carbon emissions."
Virgin America currently operates a fleet of 63 Airbus A320 family aircraft comprised of A319ceo and A320ceo aircraft powered by CFM's CFM56-5B engines.
The new A321neo will become the largest aircraft in Virgin America's fleet, featuring 185 seats – a 24 percent higher capacity at same comfort levels than its current A320s. Inside the cabin, Virgin America flyers will continue to enjoy three custom-designed classes of service, touch-screen personal entertainment and an on-demand food and cocktail menu on every flight in addition to power outlets at every seat. The aircraft is expected to enter service on May 31, 2017 with its inaugural flight from San Francisco International Airport (SFO) to Ronald Reagan Washington National Airport (DCA).
As first announced in April 2016, Virgin America was acquired by Alaska Air Group in December 2016.