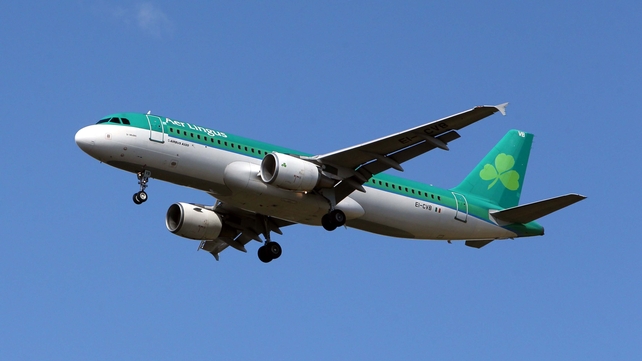 The Labour Party has unanimously passed a motion rejecting the sale of State shares in Aer Lingus.
The motion was passed at the party's national convention, as its members want guarantees on the future of Aer Lingus before any sale of State shares in the airline can take place.
The motion, which was signed by eight TDs, expresses concern that a bid by the International Airlines Group to buy the State's share in the airline does not reflect the true value of Aer Lingus.
It calls for an independent valuation of the company's assets and its slots at London's Heathrow Airport.
The motion also looks for a commitment to prevent the outsourcing of jobs and compulsory redundancies at the airline, and it looks for guarantees on connectivity and Heathrow slots.
It also calls for a plan for Cork and Shannon airports, taking into account their impact on their individual regions.
Proposing the motion, Dublin North TD Brendan Ryan said the objection to the current deal was "not out of political self interest, but because it is a bad deal".
Mr Ryan added: "We have not heard any valid reason for example why IAG cannot purchase the other 75% of the company and work with the Irish State".
"We will not risk the future of the airline and its workers," he added.
Dublin Central TD Joe Costello seconded the motion saying Aer Lingus "had a fine past and a great future".
"All the heavy hitters are out, from all quarters, seeking to rubbish any objection to the sale as parish pump politics," said Mr Costello.
"We have to put down a very strong marker. We have to use our leverage of the 25.1% in relation to the Heathrow slots.
"We have to ensure air connectivity. We have to ensure the national interest is protected. We have to ensure the livelihoods of all the employees and the tens of thousands of people who are working in tourism and the international investment that has come abroad in to this country," added Mr Costello.
Before the motion was passed, Minister for Rural Affairs Ann Phelan said she commended the motion and she re-iterated the serious concerns in the motion by reading them out.