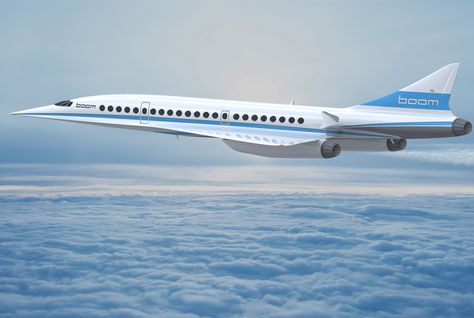 US-based Boom Technology will cut the existing flight time from Dubai to London or Abu Dhabi to Sydney by half when its supersonic passenger jet comes into commercial operation. 10% of routes for Boom supersonic flights expected to originate from Gulf countries, says founder Blake Scholl.
The first test-flight of its XB-1, dubbed the "baby boom", is set to take place next year, will connect the GCC to the rest of the world with flights up to 2.6 times faster than conventional airliners.
"Today, it takes 7:50 hours to fly from Dubai to London, or takes 14 hours if you fly from Abu Dhabi to Sydney. Boom will reduce the time to 4:32 hours and 8 hours, respectively," company founder and chief executive Blake Scholl said on Tuesday evening during a presentation at Dubai Future Foundation.
The jet will be 10 percent faster than the now defunct Concorde, reaching Mach 2.2 or 2,335 kilometre per hour. The first test of the supersonic plane is under construction and first passenger flights are expected to begin by 2023.
Speaking to Arabian Business, Scholl revealed that nearly 10 percent of 500 global routes for supersonic travel are expected to originate from the Gulf.
More on AirGuide Business