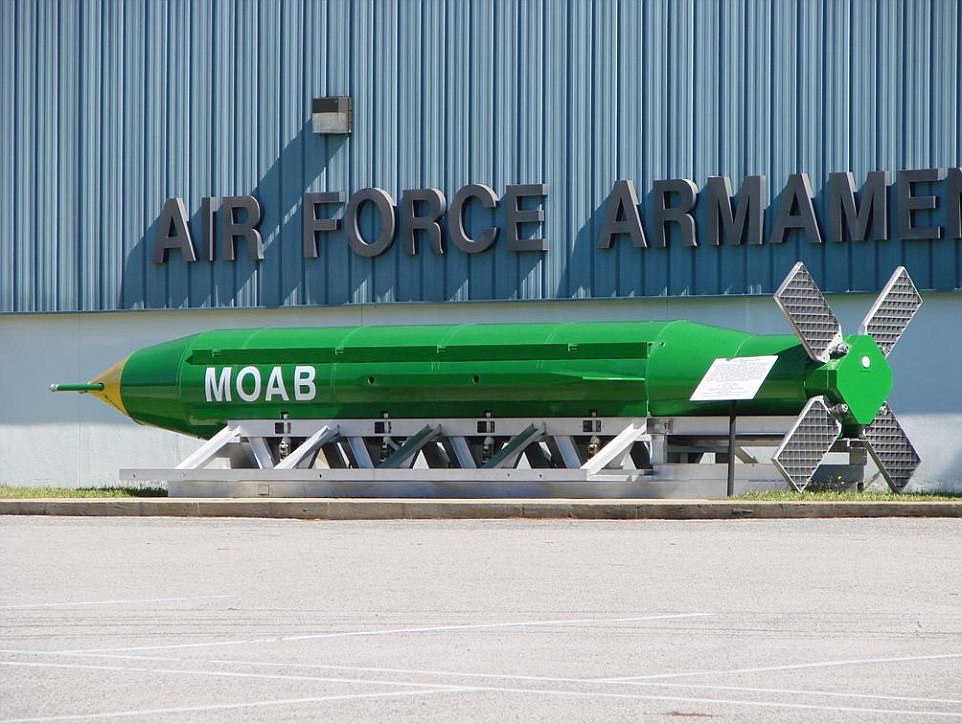 The United States dropped its largest non-nuclear weapon on Thursday after it targeted an ISIS network of caves and tunnels in eastern Afghanistan.
U.S. forces used a 30-foot long, GPS-guided GBU-43 bomb, at around 7.30pm local time in the Nangarhar Province.
The weapon weighs a staggering 21,600 pounds.
It is known as the 'Mother Of All Bombs' – a play on 'MOAB,' an acronym that stands for 'Massive Ordnance Air Burst.'
A crater left by the blast is believed to be more than 300 meters (1,000 feet) wide after it exploded six feet above the ground. Anyone at the blast site was vaporized.
President Donald Trump told reporters at the White House that he was 'very, very proud' and called the operation 'really another successful job. We're very, very proud of our military.'
The Pentagon is denying that the attack was a revenge strike despite the fact that it came in the same area of Afghanistan where a Green Beret soldier was killed on Saturday.
Officials in Afghanistan say the U.S. bomb targeting caves in the country's east has killed at least 36 Islamic State militants.
USForces Afghanistan released video of the GBU-43/B MOAB strike from Hercules MC-130.