On the 14th February 1990, Flight IC605 took off Mumbai (Bombay) enroute to Bangalore. On final approach, the aircraft descended below normal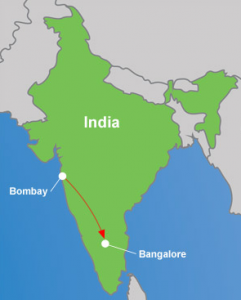 approach profiles and continued descending,  the landing gear touched the ground of Karnataka Golf Club, approximately 2.800 ft from the airport.
Flight 605 then went up again in an attempt to perform a 'touch and go',but failed and the aircraft struck a 12-ft embankment. The impact caused several people to be thrown from their seats and hit the aircraft's floor, as several seat belts snapped during the impact. Both engines and the landing gear of the aircraft detached from the wings and the fuselage.
Several people managed to get out from the plane due to an opening on the aircraft's fuselage. The surviving cabin crew opened the emergency door on the airplane and began to evacuate the survivors. At least 92 people, consisting of 88 passengers and 4 crews, were killed in the crash, while 54 other survived, all with injuries.
Investigations have show that Pilot error was the cause of the crash.