35 years ago today, World Airways Flight 30 (N113WA) was a scheduled passenger flight from Oakland International Airport, California to Logan International Airport, Boston via Newark Liberty International Airport, New Jersey. The McDonnell Douglas DC-10-30CF was carrying 200 passengers & 12 crew members.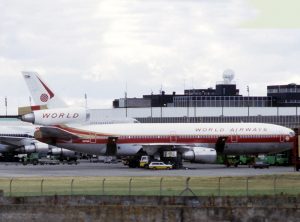 N113WA, the accident aircraft involved. 
---
ACCIDENT
The first leg of the flight was uneventful. World Airways Flight 30 departed Newark under the command of Captain Peter Langley (58), First Officer Donald Hertzfeld (38) and Flight Engineer William Rogers (56).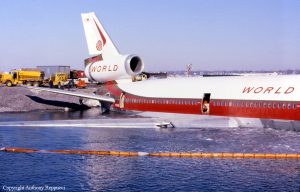 World Airways Flight 30 made a non-precision instrument approach to runway 15R at Boston Logan International Airport and touched down 2800 feet past the displaced threshold. When the crew sensed that the aircraft couldn't be stopped on the remaining runway, they steered the DC-10 off the side of the runway to avoid the approach light pier and slid into the shallow water. The nose gear separated as the DC-10 came to rest 250 ft past the runway end, 110 feet left of the extended centreline.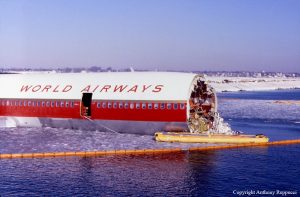 The three pilots, two flight attendants, and three passengers ended up in the water. Passengers Walter Metcalf 70, and Leo Metcalf, 40, were presumed drowned. They were never found.
---
INVESTIGATION
The investigation into the World Airways Flight 30 accident was led by the National Transportation Safety Board (NTSB).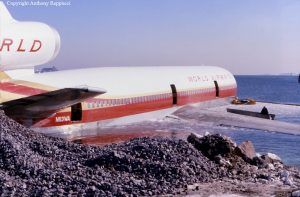 They concluded that the probable cause was the minimal braking effectiveness on the ice-covered runway; the failure of Boston Logan International Airport management to exercise maximum efforts to assess the condition of the runway to assure continued safety of landing operations; the failure of air traffic control to transmit the most recent pilot reports of braking action to the pilot of flight 30 and the captains decision to accept and maintain an excessive airspeed derived from the auto throttle speed control system during the landing approach which caused the aircraft to land about 2,800 ft beyond the runway's displaced threshold.
---
Article By: @AirCrashMayday
Sources: AviationSafety, Wikipedia
---