25 years ago today, Lauda Air Flight 004 (OE-LAV) was an international passenger flight from Kai Tak Airport, Hong Kong to Vienna International Airport, Vienna, Austria with a stopover at Don Mueang International Airport, Bangkok, Thailand. The Boeing 767-3Z9ER was carrying 213 passengers & 10 crew members at the time of the accident.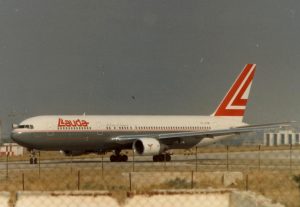 Photograph taken of the Boeing 767 (OE-LAV).
The pilots on board Lauda Air Flight 004 were Captain Thomas J. Welch (American) & First Officer Josef Thurner (Austrian).
At 23:02 local time, Lauda Air Flight 004 departed from its stopover Don Mueang International Airport, Bangkok, Thailand to Vienna International Airport, Vienna, Austria.
The passengers & crew included 83 Austrians, 74 Austrian passengers and 9 Austrian crew members. 52 Hong Kong passengers & other nationalities included Thais (39), Italians (10), Swiss (7), Chinese (6), Germans (4), Portuguese (3), Taiwanese (3), Yugoslavs (3), Hungarians (2), Filipinos (2), Britons (2), Americans (2), Australian (1), Brazilian (1), Polish (1) and Turkish (1).
At 23:08, Captain Welch & First Officer Thurner received a visual warning indicating that a possible system failure would cause the thrust reverser on the number one engine to deploy in flight. Having consulted the aircraft's quick reference handbook, they determined that it was "just an advisory thing" and took no action.
At 23:17, the thrust reverser on the number one engine deployed while the plane was over mountainous jungle terrain in the border area between Suphanburi and Uthai Thani provinces in Thailand. Thurner's last recorded words were, "Oh, reverser's deployed."
The aircraft's left side was disrupted due to the reverser deployment, and the aircraft was placed in an immediate diving left turn. The aircraft went into a diving speed of mach 0.99. The aircraft broke in mid-air on the way down at 4,000ft. Killing everyone on board.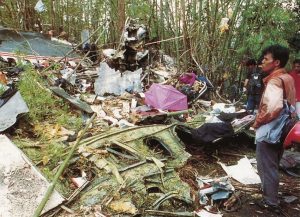 Most of the wreckage was scattered over a remote forest area roughly 1km2 in size, at an elevation of 600m above sea level, in what is now Phu Toei National Park, Suphanburi. The wreckage site is about 6 kilometres (3 nmi) north northeast of Phu Toey, Huay Kamin, Dan Chang District, Suphan Buri Province about 160 kilometres (100 mi) northwest of Bangkok, close to the Burma-Thaliand border.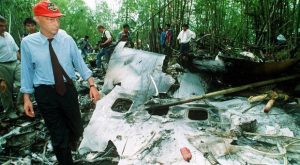 Lauda Air founder Niki Lauda travelled to Thailand to examine the wreckage & to help investigate the crash of his airliner.
The official investigation could not determine the cause of the thrust reverser deployment. Different possibilities were investigated, including a short circuit in the system. However, partly due to the destruction of much of the wiring, no definitive reason for the activation of the thrust reverser could be found. As a result mechanical positive locks were mandated to prevent thrust reverser deployment in flight.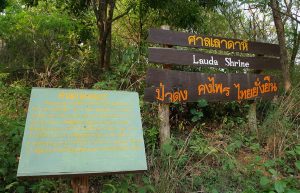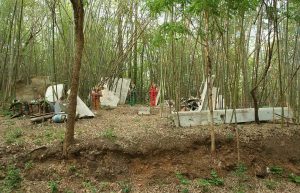 The Lauda Shrine was built to commemorate the 223 passengers & crew who died on Lauda Air Flight 004.
Article By: @AirCrashMayday
Sources: AviationSafety, Wikipedia