20 years ago today, Trans World Airlines Flight 800 (N93119) was a scheduled international passenger flight from John F Kennedy International Airport, New York City to Charles de Gaulle Airport, Paris with a stop over at Leonardo da Vinci Airport, Rome. The Boeing 747-131 was carrying 212 passengers & 18 crew members.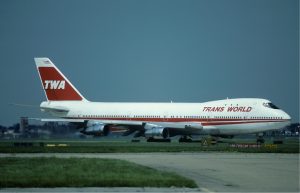 The accident aircraft N93119 at London Heathrow Airport in 1982.
The ill-fated TWA Boeing 747-131 (N93119) at Los Angeles International Airport in 1991.
---
ACCIDENT
The pilots on board TWA Flight 800 were Captain Ralph G. Kevorkian, Co-pilot Steven E. Snyder and Flight Engineer Richard G. Campbell. All had more than 30 years employment with Trans World Airlines. There was also a Flight Engineer Trainee on board Oliver Krick, who was starting the sixth leg of his initial operating experience training.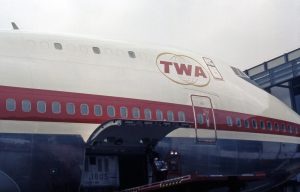 The TWA Boeing 747 (N93119) arrived as TWA Flight 881 from Athens, Greece at John F Kennedy International Airport, New York at 16:31. The airplane was refuelled at JFK and remained at gate 27 with the APU and two of its three air conditioning packs operating for about 2 1/2 hours until it departed as TWA Flight 800.
TWA Flight 800 was scheduled to depart JFK for Paris at about 19:00. However, the flight was delayed because of a disabled piece of ground equipment and concerns about a suspected passenger/ baggage mismatch. After the owner of the baggage in question was confirmed to be on board. The flight crew prepared for departure and was pushed back from the gate at 20:02.
At 20:18, ATC advised the pilots that the wind was out of 240-degrees at 9 knots and cleared TWA Flight 800 for takeoff. After takeoff the pilots received a series of altitude assignments and heading changes from New York Terminal Radar Approach Control and Boston ARTCC controllers.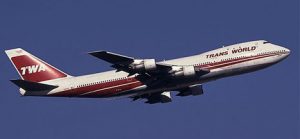 At 20:25, Boston ARTCC advised the pilots to climb and maintain FL190 and expedite through FL150. At 20:26, Boston ARTCC amended TWA Flight 800's altitude clearance, advising the pilots to maintain FL130.
At 20:29, the captain stated, "Look at the crazy fuel flow indicator there on number four…. see that?" One minute later Boston ARTCC advised them to climb and maintain FL150. The crew then selected climb thrust.
A loud sound was heard for a fraction of a second then the CVR stopped recording at 20:31.
https://www.youtube.com/watch?v=TYnEdyAVogY
At that moment, the captain of an Eastwind Airlines Boeing 737 reported to Boston ARTCC that he "just saw an explosion out here", adding "we just saw an explosion up ahead of us here…. about 16,000ft or something like that, it just went down into the water".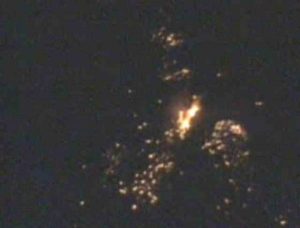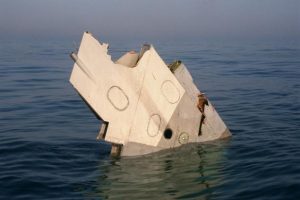 The aircraft broke up and debris fell into the Atlantic Ocean 8 miles south off East Moriches, New York. All 212 passengers & 18 crew members were killed.
---
INVESTIGATION 
The Investigation was led by the National Transportation Safety Board (NTSB). The government spent four years and millions of dollars in the investigation.
Investigators considered several possible causes for the structural breakup: structural failure and decompression, detonation of a high-energy explosive device, such as a missile warhead exploding either upon impact with the airplane or just before impact, a bomb exploding inside the airplane or a fuel/air explosion in the center wing fuel tank.
It was eventually concluded that an explosion of the center wing fuel tank (CWT) resulted from ignition of the flammable fuel/air mixture in the tank. The source of ignition energy for the explosion could not be determined with certainly but, of the sources evaluated by investigation, the most likely was a short circuit outside of the CWT that allowed excessive voltage to enter it through electrical wiring associated with the fuel quantity indication system.
Contributing factors to the accident were the design of certification concept that fuel tank explosions could be prevented solely by precluding all ignition sources and the design and certification of the Boeing 747 with heat sources, located beneath the CWT with no means to reduce the heat transferred into the CWT or to render the fuel vapor in the tank nonflammable.
---
Article By: @AirCrashMayday
Sources: AviationSafety, Tailstrike, CNN, Wikipedia
---