10 years ago today, Adam Air Flight 172 (PK-KKV) was a scheduled domestic passenger flight from Soekarno-Hatta International Airport in Jakarta, Indonesia to Juanda International Airport in Surabaya, Indonesia. The Boeing 737-33A was carrying 143 passengers & 6 crew members.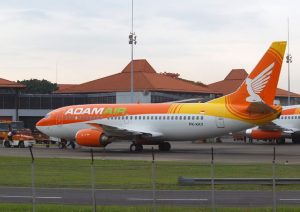 PK-KKV, the accident aircraft involved. 
---
ACCIDENT
Adam Air Flight 172 was on descent to Juanda International Airport. The weather at Surabaya included thunderstorm and rain, wind 240/7 knots with a visibility of 8,000 meters. During the descent, the conversation in the cockpit was not related to the process of the flight. It was relating to the company fuel policy and training program until 2000 ft. The approach briefing nor a checklist reading wasn't carried out. On final approach to runway 28, while passing 800 ft, the approach lights were in sight and a landing clearance was received. Prior to touchdown, control of the aircraft was transferred from co-pilot to captain. During the descent towards the runway, the GPWS warned "Sink Rate" & Pull Up".
The right wheel touched down some 4 meters outside the runway the airplane was steered back onto the runway. The aircraft stopped about 100 meters from taxiway N3. After the 5g touchdown, the fuselage aft of passenger seat row 16 was severely buckled and bent down. There was panic among the passengers. Flight attendants evacuated the passengers via all exits available and all door slides were inflated. Two passengers sustained minor injuries, and the aircraft suffered substantial damage.
---
INVESTIGATION
The investigation into the accident of Adam Air Flight 172 was led by National Transportation Safety Committee (NTSC).
They concluded that the probable cause was the crew's failure to stabilize the approach, the crew's failure to comply with several procedures published by the Boeing company and the failure to respond to the GPWS alert and warnings.
---
Article By: @AirCrashMayday
Sources: AviationSafety, Wikipedia
---