Pope Francis has married a couple of LATAM flight attendants on board a flight from Santiago, Chile, to the northern city of Iquique.
Two LATAM Airlines flight attendants were on the trip from Santiago to Iquique and, as all crew members are given the opportunity to do, went up to the front of the aircraft for a photo with Pope Francis.
When the pope asked them if they were married, the couple revealed the story of how the deadly quake had forced them to cancel their wedding. The pontiff asked if they would like him to conduct the ceremony right there on the plane, and they agreed.
The pope asked them repeatedly if they were sure, but they didn't waver. Pope Francis blessed the wedding rings the couple have worn since their civil ceremony. The couple, who met when Podest was working as Cuiffardi's boss, now live in Santiago with their two children.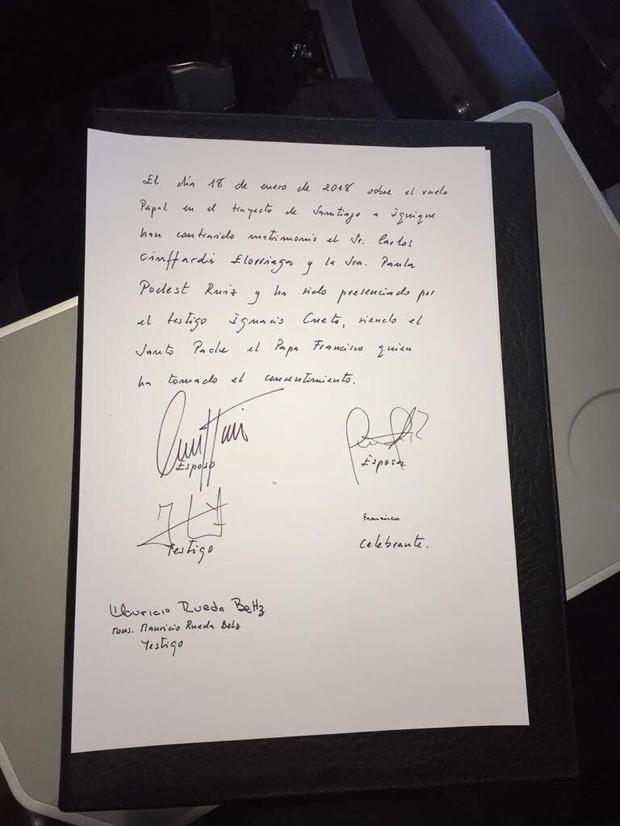 Carlos Ciuffardi and Paola Podest had planned to wed on February 27, 2010, but a massive earthquake struck and their church collapsed on their intended wedding day. They eventually had a civil service, but had yet to be formally married in the eyes of the Catholic Church.