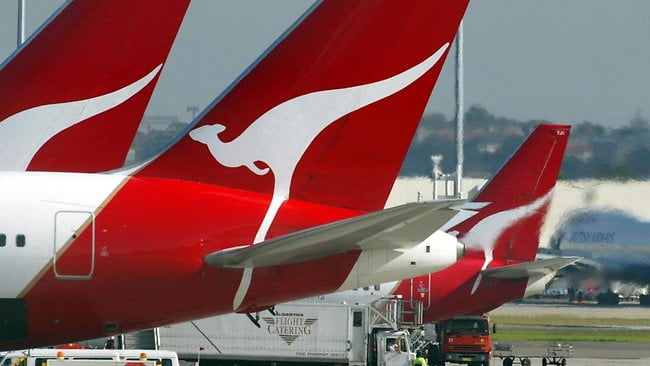 Rapper will.i.am has accused a Qantas flight attendant of racism on a domestic flight between Brisbane and Sydney. will.i.am and the rest of the Black Eyed Peas are currently touring Australia.
In a tweet will.i.am said "I'm currently on a flight from Brisbane to Sydney. I'm sorry to say me and my group have experienced they worse service due to a overly aggressive flight attendant… I don't want to believe she racist. But she has clearly aimed all her frustrations only at the people of colour."
The incident is alleged to of occurred when will.i.am missed an onboard announcement 20 minutes into the flight while he was wearing noise cancelling headphones and working on his computer. "She sent the police after me because I couldn't hear the PA while making beats on the plane wearing noise-cancelling headphones. I did comply quickly and politely, only to be greeted by police. I think I was targeted."
I was making music wearing noise canceling headphones on the plane… I'm sorry i couldn't hear the P.A…I complied when she's tapped me on the shoulder to put my laptop away…

It's sad that your #RacistFlightAttendant sent the police… pic.twitter.com/LmitBhTjfi

— will.i.am (@iamwill) November 16, 2019
In further tweets he claimed, "Qantas, your racist flight attendant was beyond rude and took it to the next level by calling the police on me. Thank god the other passengers testified that she was out of control. The police finally let me go. Imagine if the police were as aggressive [as the flight attendant]. Is calling the police on a passenger for not hearing the PA due to wearing noise cancelling headphones appropriate? I did comply quickly and politely, only to be greeted by police. I think I was targeted."
In the series of tweets will.i.am named the flight attendant. Australian media have redacted the name of the flight attendant for legal reasons. Some twitter users questioned his way of bringing attention to the incident and his decision to publicly name the flight attendant instead of using the Qantas complaint process. In response he tweeted, "I am posting so that this doesn't happen again…it shouldn't happen to a Aboriginal, Latino, African, LGBTQ White, Red or anyone… everyone deserves to be treated with respect…"
Other passengers onboard the flight tweeted their support of will.i.am, with some saying they were "victims" of the same flight attendant. Another passenger tweeted in response, "I was on the same flight and couldn't believe the appalling behaviour of the flight attendant. My apologies on behalf of Australia."
After it was pointed out the flight attendant was receiving abuse online, will.i.am tweeted, "Please do not send Hate…This type of disrespect and name calling is uncalled for…I don't support abuse & attacks like this…I hope that everyone can be more compassionate & understanding towards one another…because it was the lack of compassion that caused this #noH8."
In a statement to local media Qantas said, "There was a misunderstanding on board, which seems to have been exacerbated by will.i.am wearing noise-cancelling headphones and not being able to hear instructions from crew. We completely reject the suggestion this had anything to do with race. We'll be following up with will.i.am and wish him well for the rest of the tour."
The Australian Federal Police (AFP) told Pedestrian that they met will.i.am at the gate and decided no further action was needed and "the AFP considers the matter finalised."
This incident comes after another in September involving twin sisters Lisa and Jess Origliasso, who form the music duo The Veronicas. They were removed from a domestic flight after Qantas claimed they failed to follow cabin crew directions.