A Washington-bound Emirates Boeing 777-300ER overran the runway while taking off, narrowly avoiding an incident at Dubai International Airport.
The aircraft with registration A6-EQI was operating flight EK231 from Dubai International Airport to Washington Dulles International Airport on Monday, 20th December, when the incident occurred.
However, as reported by the Aviation Herald, the aircraft failed to rotate past the runway threshold. They only rotated for takeoff at the end of the runway end safety area, narrowly avoiding a major incident.
As a result, the flight director system, similar to autopilot, nearly plunged the Boeing 777 into the ground shortly after takeoff. The aircraft passed over the house nearby the airport at just 75 feet above ground level. The plane took off at about 14,400 feet (4,000 meters) past the runway threshold. The Boeing 777 barely gained altitude and was flying at a speed of 262 knots at an altitude of just 175 feet.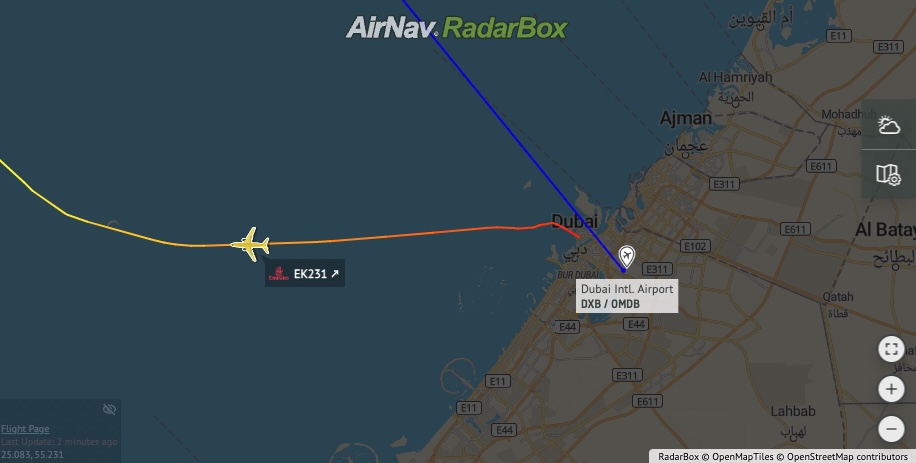 Unconfirmed reports claim that the cabin crew failed to reset the takeoff climb altitude from zero feet to 4,000 feet, which is a standard takeoff altitude to the first climb. This is why the aircraft failed the rotate even past the runway threshold and was still on the ground at 216 knots. Typically, an aircraft would climb well under 200 knots at that altitude.
Although aircraft facing similar situations usually return to the airport to assess the probable damage sustained, the crew decided to continue to Washington after safely gaining some altitude. The aircraft underwent cracks check and damage to its wings, flaps and landing gear in Washington DC.
While the Dubai-based carrier hasn't officially commented on this incident, the airline did send an alert to pilots. The airline wrote the following essentially referencing the incident:

The Federal Aviation Administration (FAA) is now investigating this incident, and it is being reported that all four pilots at the controls have been suspended or possibly even fired.