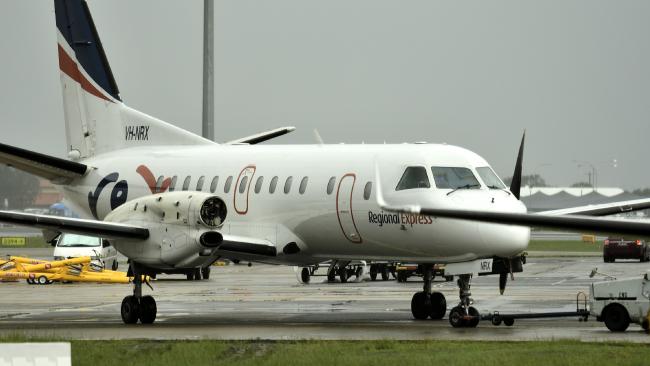 The ATSB has today released a preliminary report into the in-flight propeller detachment involving a Regional Express SAAB 340 aircraft near Sydney Airport on 17 March 2017.
The REX aircraft, VH-NRX, at Sydney airport after the incident. The ATSB's inspection of the aircraft identified that the propeller shaft fractured, leading to the separation of the propeller.
An inspection of the propeller at the ATSB's technical facilities in Canberra revealed a fatigue fracture that began in the propeller mounting flange (the part that attaches the propeller to the gearbox) and continued into the propeller shaft. The inspection also found corrosion near the initiation of the fracture.
ATSB Chief Commissioner Greg Hood says the ATSB has been working closely with the Civil Aviation Safety Authority (CASA), SAAB, GE Aviation (engine manufacturer) and Regional Express during the investigation.
"This is the first known critical failure of this type, initiating within the propeller hub flange of the GE Aviation CT7-9B engine," Mr Hood said.
"Both the operator and the engine manufacturer have already taken proactive safety action in response to the ATSB's safety advisory notice.
"GE Aviation is conducting metallurgical analysis on the propeller flange and hardware at its laboratories in Cincinnati, USA. They are also inspecting additional propeller gearboxes and reminding all operators to follow maintenance and inspection procedures. GE Aviation will release additional maintenance and inspection recommendations if they become necessary.
"Regional Express has quarantined all propeller gearboxes with propeller shafts of the same series as that installed in the aircraft involved in the incident."
The ATSB's ongoing investigation will focus on maintenance procedures associated with the propeller gear box shaft and examine factors that may have contributed to the fatigue fracture at the propeller mounting flange.
Mr Hood says the ATSB will continue to work closely with all involved parties to determine the cause of the propeller detachment.