Following from President Donald Trump's failed travel ban which excluded  people traveling to the USA, new measures have now been announced.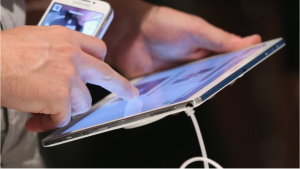 Passengers will have to check electronic devices larger than mobile phones once US authorities formalise a new ban in response to an unspecified terrorism threat, US officials told Reuters this morning.
The new rule is expected to be announced today by the Department of Homeland Security, the officials said, adding that it had been under consideration since the US government learned of a threat several weeks ago.
A source said the rule would cover around eight to ten foreign airlines.
A separate government official confirmed an Associated Press report that the ban will affect ten airports in eight countries in the Middle East and North Africa.
Full Story: Rté.ie